Spotlight on Literary Translators is a regular feature here at Intralingo. The aim of these interviews is to get the word out about our profession and the works we bring into other languages. The insight the interviewees provide is also sure to help all of us who are aspiring or established literary translators. Enjoy!
Spotlight on Literary Translator Richard Jeffrey Newman
LC: What language(s) and genres do you translate?
RJN: I translate classical Persian poetry.
LC: How did you get started as a literary translator?
RJN: I became a translator almost entirely by accident. A friend of a friend, Mr. Mehdi Faridzadeh, the executive director of an organization called the International Society for Iranian Culture, was looking for a native-English speaking poet to produce book-length translations of selections from a number of masterpieces from the Persian canon. Frankly, when I was first introduced to Mr. Faridzadeh and he explained to me what he wanted me to do, I said no. Not only was I—and am I—not literate and not fluent in Persian, though I speak and understand at an advanced beginner level, but I also knew absolutely nothing about the literature he wanted me to translate. I just did not feel qualified.
After speaking with Mr. Faridzadeh, however, I began to feel differently. He explained that he would provide me with accurate, if outdated, English renderings of the works he wanted me to translate and that he wanted me to use those to make translations that would stand on their own as American English poems. I thought about my son, who is Iranian-American, and his cousins, and of all the other Iranian-Americans who will never know Persian well enough to read these works, which are part of their heritage, in the original. Surely, I thought, they deserve versions of these masterpieces that will speak to them as a living literature in American English and so straddle the same two cultures that they do.
I agreed to do some samples, which he liked and which I enjoyed producing. More than that, though, as I began to research to history of the translation of classical Persian literature into English, I became intrigued by how important an influence that literature has been, and the idea of reintroducing it to an American audience appealed to me—perhaps especially now, when the political situation between the United States and Iran, and the stereotypical portrayal of that country and its people in our media, demands that we learn as much as we can about its history, its culture and its people.
LC: What do you love most and least about this work?
RJN: I guess I think about the first part this question in two ways. On the one hand, because I knew so little about Persian literature when I was commissioned, I have been enjoying the sense of discovery, of learning new things, of having an entire field of knowledge/inquiry open up before me with each new book that I start. (I have so far published three of the five books I was commissioned to do.)
I have had opportunities to meet people and get involved in projects that I would otherwise never have had. For example, before Mahmoud Ahmadinejad became president of Iran, I was invited for lunch with the man who was then Iran's cultural ambassador to the UN.
These things, however, are generally external to the work of translation itself, and what I have been enjoying most about that is the feeling of making something. I have always liked e. e. cummings' statement—though I am paraphrasing here—that a poet is someone who is in love with making things not with made things; and building my translations brings me tremendous satisfaction in that regard. I am also gratified by the sense that what I am building bridges two cultures that very much need to talk to each other.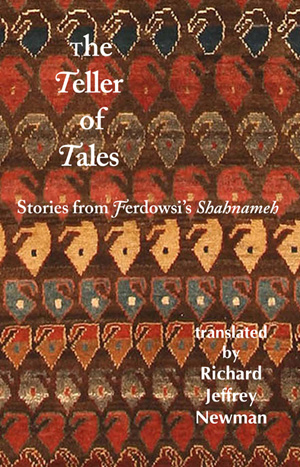 What I find most challenging about this work–which is how I will choose to understand what you mean by "what do you love least"–is having to make poems in English from work that is steeped in a spiritual tradition that I do not believe in, specifically Sufism. It's not that I can't find the right words, but to make those words sing, I have to at least be able to imagine what it is like to believe them, and I would say that the least successful of my translations are those in which I have been unable to do that as fully as I needed to.
LC: Can you tell us a little about a recent project?
RJN: Most recently, I published The Teller of Tales: Stories from Ferdowsi's Shahnameh, which is a translation of the first five stories from Iran's national epic. You can read a sample from that book on Ekleksographia. Currently, I am working on Ilahi Nama (Book of God), by Farid al-Din Attar, which is about the Sufi concept of zuhd, or asceticism. This project has been the most challenging to date because it has required me to learn a good deal of technical information about Sufi spirituality, which has involved me in the kinds of challenges I mentioned above.
LC: Richard, I have so enjoyed learning about your translation work and applaud you for it!
Dear readers: Please leave any questions or thoughts for Richard Jeffrey Newman in a comment!
Richard Jeffrey Newman writes about the impact of feminism on his life as a man and of classical Persian poetry on our lives as Americans. He has published one book of his own poems, The Silence of Men and three books of translations, Selections from Saadi's Gulistan, Selections from Saadi's Bustan, and The Teller of Tales: Stories from Ferdowsi's Shahnameh. He runs the First Tuesdays reading series in Queens, NY and he is Professor of English at Nassau Community College in Garden City, NY. His website is www.richardjnewman.com.